About AICGS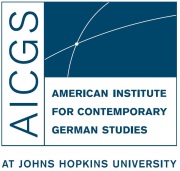 Building knowledge, insights, and networks
for German-American Relations
About AICGS
The American Institute for Contemporary German Studies strengthens the German-American relationship in an evolving Europe and changing world. The Institute produces objective and original analyses of developments and trends in Germany, Europe, and the United States; creates new transatlantic networks; and facilitates dialogue among the business, political, and academic communities to manage differences and define and promote common interests.
Affiliated with Johns Hopkins University, AICGS provides a comprehensive program of public forums, policy studies, research, and study groups designed to enrich the political, corporate, and scholarly constituencies it serves.
Members of the Institute's Board of Trustees
Fred H. Langhammer
Chairman, Global Affairs, Estée Lauder Companies Inc., Co-Chair
Dr. Eugene A. Sekulow
Consultant, Co-Chair
David W. Detjen, Esq.
Partner, Alston & Bird LLP, Vice-Chair and Secretary
Susan S. Harnett
Global Consumer Head of Business Performance Management, Citigroup Inc., Treasurer
Prof. Dr. h.c. Roland Berger
Honorary Chairman, Roland Berger Strategy Consultants, Vice-Chair, Europe
Stefan Baron
Global Head of Communications, Deutsche Bank AG
Prof. Ernestine Schlant Bradley
The New School University
The Honorable Richard Burt
Senior Advisor, McLarty Associates
Edward T. Cloonan
John F. Curtis, President
Seven Seas Water Corporation
Dirk Egbers
Partner, Ernst & Young
The Honorable Thomas L. Farmer
Consultants International Group, Inc.
Prof. Dr. Dieter Feddersen
Attorney at Law, Member of the Board of Directors of Dräger Foundation
Alan H. Fleischmann
Co-Founder and Managing Director, ImagineNations Group
Dr. Gerhard Gnaedig
Guenther E. Greiner
President, International Corporate Consultancy LLC
Michael E. Hansen
CEO, Elsevier Health Sciences
Louis R. Hughes
CEO, InZero Systems
Dr. Michael J. Inacker
Bereichsleiter, Corporate Communications and Public Affairs, Metro AG
The Honorable Wolfgang Ischinger
Global Head of Government Relations, Allianz SE
Martin Jäger, Vice President, Head of Global External Affairs and Public Policy, Daimler AG
Dr. Josef Joffe
Publisher-Editor, Die Zeit
Frederick Kempe
President and Chief Executive Officer, The Atlantic Council of the United States
Dr. Klaus Kleinfeld
Chairman & CEO, Alcoa Inc.
The Honorable John C. Kornblum
Senior Counselor, Noerr Stiefenhofer Lutz
Dennis R. Kruse
Vice President of Network Services, Orange Business Services
Susan C. Livingston
Partner, Brown Brothers Harriman & Co.
The Honorable Frank E. Loy
Former Undersecretary of State for Global Affairs
Dr. Wallace Mathai-Davis
Managing Partner, The GIA Group
Dr. Bernd R. Mayer
Partner, Skadden, Arps, Slate, Meagher & Flom LLP & Affiliates, Munich
Dr. Jill E. McGovern
Consultant
Peter Melerski,
Consultant
Dr. Steven Muller
President Emeritus, The Johns Hopkins University
Caroll H. Neubauer
Chairman and CEO, B.Braun of America and B.Braun Medical Inc., Bethlehem, PA USA
Dr. Andreas Nick
Morris W. Offit
Chairman and CEO, Offit Capital Advisors LLC
Dr. Lutz R. Raettig
Chairman, Supervisory Board, Morgan Stanley Bank AG, Frankfurt
J. Michael Schell
Carl A. Siebel
President & CEO, Carl Siebel Consulting GmbH
Lianne Stein
President, Boeing Germany
Charles Varvaro
Vice President, Global Technology Services, IBM
Honorary:
The Honorable James A. Baker III
Senior Partner, Baker & Botts
Ex officio:
Dr. Jackson Janes
Executive Director